About Tanzania
In total, more than 25% of Tanzania has been set aside for wildlife conservation. The country is spectacularly diverse and beautiful with exceptional wildlife and iconic landmarks such as the Ngorongoro Crater (the world's largest unflooded intact volcanic caldera), Kilimanjaro (Africa's tallest mountain), Great Rift Valley, and the Serengeti. The country supports very high predator densities, especially lion. In addition, it has no less than 35 species of antelope and a staggering number of wildebeest. 
The traditional "Northern Circuit" boasts Tanzania's most famous parks, including Tarangire National Park, Lake Manyara National Park, Ngorongoro Conservation Area, and Serengeti National Park. Other areas of interest include Lake Eyasi and Kilimanjaro. Weather wise, the best time for viewing game in northern Tanzania is June through March. Late December through February and July and August are the busiest periods. April, May November is traditionally the rainy season. In addition, light rains usually fall between late October and early December. Flying directly into Kilimanjaro International Airport near the safari gateway of Arusha is the best starting point.
The landscape of Tarangire is characterized by large numbers of baobab trees, granite ridges, mixed acacia woodland, and grassland. It is the best area on the Northern Circuit to see lions in trees and large numbers of elephant. Lake Manyara is the seasonal home of tens of thousands of flamingos, providing a pink blanket over the water. This 125-square-mile park has the Great Rift Valley Escarpment for a dramatic backdrop. Lake Eyasi is Tanzania's largest soda lake. Seldom visited by travelers, this remote area is home to the Hadzabe Bushmen and the Datoga tribe. 
Ngorongoro Crater, the largest unflooded, intact caldera (collapsed cone of a volcano) in the world, contains possibly the largest permanent concentration of wildlife in Africa. Wildlife, humans and livestock inhabit the conservation area together. The word Serengeti means "endless plain" in the Maasai language. This vast national park is one of the best to see lion and cheetah. And then, of course, there is the Great Migration of more than 1.3 million wildebeest and 400,000 zebra moving across the majestic plains.
At 19,340 feet above sea level, Kilimanjaro is the highest mountain in Africa and one of the "Seven Summits." The summit is more than 16,000 feet above the surrounding plains – you truly feel that you're on top of Africa! No mountaineering skills are required to ascend; it is purely a (rather strenuous) walk to the summit! It is definitely best to avoid the rainy season. 
Two of the world's largest and least visited national parks, Nyerere and Ruaha, lie lazily stretched in the country's south. Scenically spectacular Ruaha triumphantly boasts the largest number of lion of any reserve in Africa, along with large numbers of elephant, buffalo, kudu, and wild dog. A big attraction of Nyerere (formerly Selous Game Reserve) is game viewing by boat as well as in open vehicles and on foot. By and large, the best months for game viewing are July to October.
The narrow streets and Arabic architecture of historical Zanzibar are exceptionally mystical and beautiful on a moonlit night. It is approximately a 1 to 1.5 hour drive to reach most of the island's beach resorts from the Zanzibar Airport.
Map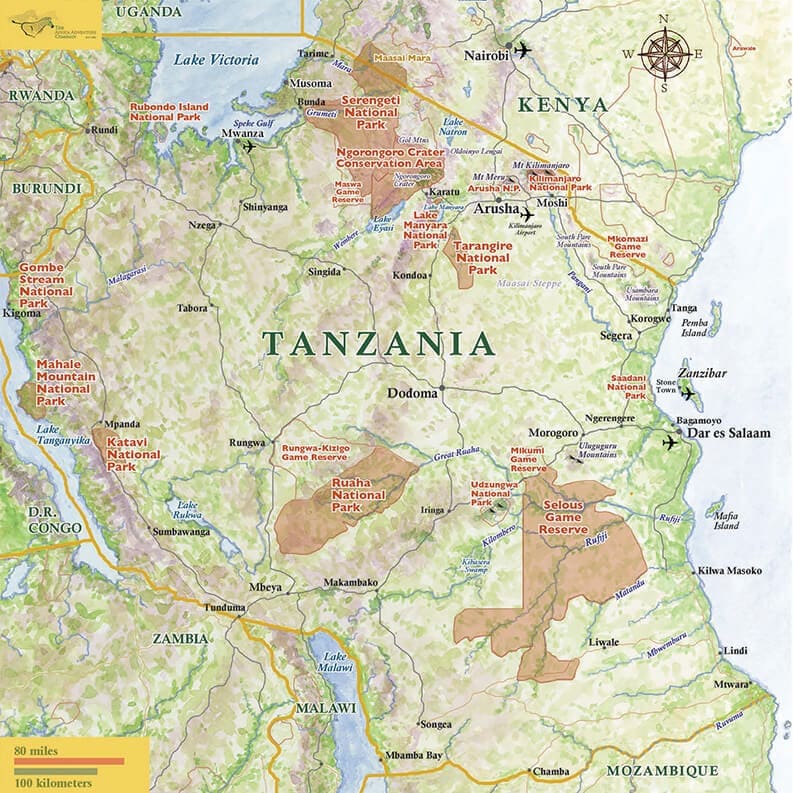 Best Time To Go
Visit our in depth information page on the best times to go based on game viewing, with ratings on each park and preserve, as well as which wildilfe is best seen where, the activities and the average monthly temperatures that are optimum for each country.
* Great Serengeti Migration
Excellent
Good
Fair
Poor
Closed
Hear from Our Travelers
It's all about our clients, always has been!
We had an absolutely incredible trip that was beyond my imagination.
We had an absolutely incredible trip that was beyond my imagination. Having Mkenda as a guide was incredible. He is so knowledgeable. On a drive through the Tarangire, he spotted a leopard in a tree....
Alisa Wilson
Read More
Tanzania's Top Wildlife Stories