Top 10 Questions Asked About a First Time African Safari to Tanzania
1 – Phrases everyone should know when meeting your guide in Arusha?
Brush off your language skills and learn a few words of Swahili. Start with "Jambo" (hello) and "Habari?" (how are you?) and you are on your way.
You will sound like a seasoned safarier during a game drive viewing the spectacular big cat and saying "There's a 'simba' (lion)".Want to make your guide turn around quickly?  Shout 'Simba!  Simba!'  – lion! Lion!
"Asante sana" (thank you) will be helpful at the end of the day when your staff meet you holding a nice refreshing wet hand towel or refreshing "pombe" (Tusker beer).
2 – How do you see the Big 5?
Through Big Binoculars! – Seriously though…..
Seeing The Big 5 is definitely possible…with a great guide and having the Ngorongoro Crater as part of your itinerary. Lion, leopard, elephant and Cape buffalo are frequently seen in Tarangire National Park and the Serengeti but it's the illusive black rhino that provides to be a challenge.  Head to the Ngorongoro Crater and you have a good chance of spotting one (you may need binoculars to spot them but heck, it still counts as a sighting and you can check off the impressive mammal).
3 – What is a box lunch – and what to ask for? And the sundowner?
There is nothing better than a picnic in the African bush and a "box lunch" is just that. Departing your camp or lodge for a full day of game viewing, your guide will pack up the picnic basket and cooler with your "box lunch" (yes, they are served in a box). Back in the day, the box lunches were traditionally a hard boiled egg and chicken leg but things are getting more gourmet and can include homemade breads, delicious cheeses, sandwiches, salads and fresh fruit. (A tip – let your guide know if you are not a fan of hard boiled eggs.)
And the sundowner….enjoying the impressive sunsets at the end of the day with a sip-sip cocktail.
4 – What is a typical day on a driving safari like?
Load up in your safari vehicle in the morning and head out with your safari guide for a day of fun. In Tanzania's northern circuit this is an ideal way to explore as the national parks are all an easy drive from each other and there always seems to be something interesting to look at along the way.  Watch the dust settle on your clothing too (hence the reason to wear shades of khaki)!
5 – What is the typical day on a fly-in/wing safari like?
Seeing the landscape from the air in Tanzania is a magical experience. Your charter flight to your next camp is usually timed for mid-day so that you arrive to your next camp in time for lunch and a late afternoon game drive. There may be a surprise on arrival at the airstrip.
6 – Should you stay on the rim of Ngorongoro Crater?
You better believe it! Not only do you have epic views across the sunken caldera but it provides you with easy access into the crater for the morning game drive.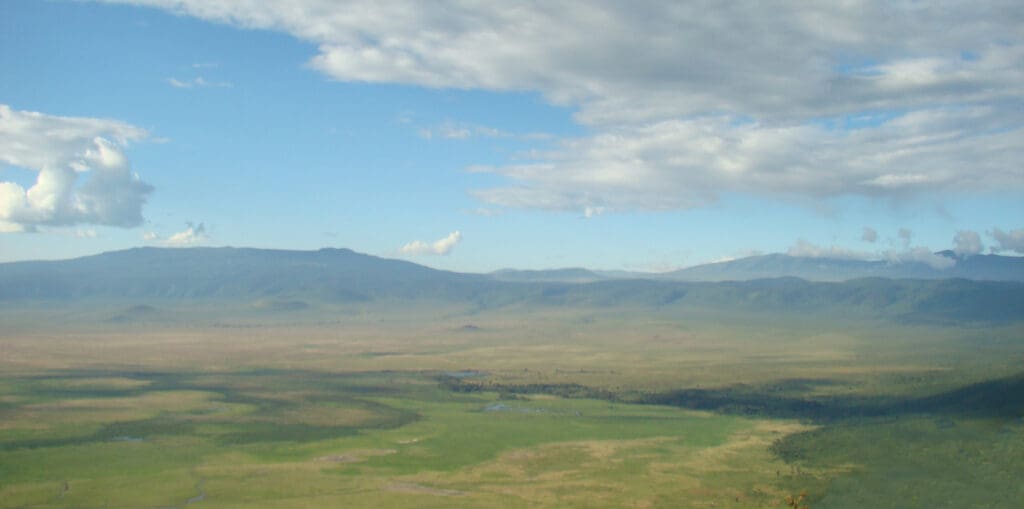 7 – How do you purchase a Masai necklace?  Or Tanzanite?
Dreaming of purchasing a rare Tanzanite? Request your guide to visit either a shop in Arusha or enroute to Lake Manyara. The experience can offer the chance to learn more about its history as well as ogle some of the better stones. And bring your wallet because these incredibly gorgeous gemstones are incredibly rare and definitely not cheap.
Dreaming of purchasing a rare Tanzanite? Head to Tanzanite One in Arusha for the "Tanzanite Experience" which offers the chance to learn more about its history as well as ogle some of the better stones. And bring your wallet because these incredibly gorgeous gemstones are incredibly rare and definitely not cheap.
8 – What do you see on a night game drive?
Night game drives are thrilling and add a new element to your safari and the thrill of the unknown. The infra-red filtered light picks up the animals behaving in heir completely natural manner. You might spot bushbabies, porcupines, genets, civets and honey badgers and if you are lucky; leopard, lion, or hyena.
9 – What is the proper etiquette involved with a "bucket shower"?
Bucket or bush showers are usually associated with Seasonal tented camps and this is "glamping" at its best! When you are ready to freshen up at the end of a day, you just let your camp attendant know that you want a shower (this is the perfect time to practice that Swahili "Asante sana"). The water is heated over a campfire and then poured into a raised container. Don't be alarmed when you hear the attendant on the other side of the canvas tent. They are just there in case you need more hot water. Talk about first class service in the African bush.
10 – How do you fold up your guide and bring him home?
Saying farewell to your guide will be the hardest part of your safari!  Many clients wish they could bring their new-found friend home, to share their knowledge and love for Africa with others here in the USA.  Not possible of course, but you CAN introduce your family and friends to AAC, and we will take them to Africa for an amazing Safari of a Lifetime!
Click here to read our program – 14 Day Private Safari with Great Guides to Tanzania