Alison Nolting's Safari to Botswana
Take a look of our recap of Alison Nolting's incredible Safari to Botswana! For the latest updates on her safari, check out the Africa Adventure Company's Facebook page.
Kwando Lagoon & Kwando Kwara
Alison began her Botswana safari at Kwando Lagoon Camp in the Kwando Concession and Kwando Kwara Camp in the northern Okavango Delta. With the seasonal summer rains yet to arrive, the wildlife concentration is terrific. Her guides at the camps were Poster and Tembo G. After a year with very few safariers, they and the rest of the guides now have the challenge of rediscovering the composition and territories of the areas' prides of lion, cheetah coalitions, leopards, and the location of Wild Dog dens. Take a look at Alison's photos and commentary below.
(L): "The roly poly hippos were greeting us up and down the river on the boat!" | (R): "Lechwe are found in large numbers among the marshes of the Kwando Concession and northern Okavango Delta. The reason is they have well-adapted hooves for navigating the muddy waters."
(L): "There are two lionesses in the Kwando Lagoon area with five cubs. We found them during their early morning feeding time." | (R): "The cub was so curious of us!"
(L): "The female leopard was quite chilled out with her 4-month old cub." | (R): "With backlighting, the same female leopard deftly made her way up to her kill. She was so close to us in the vehicle!"
(L): "A lovely sighting to see a flock of ostrich." | (R): "I like the zebras' peaceful reflections in the water."
(L): "The guides call him 'Mr. Special', one of the area's territorial cheetahs. We tracked him by following his scent markings made on trees and termite mounds." | (R): "He was too funny when he kept falling asleep and his head flopping over sideways!"
"We were very fortunate to sight the Kwara wild dog pack, which has about 14 members."
Alison also had a very eventful night drive at Kwando Lagoon Camp. It began with an evening boat cruise and ended with a suprise bush dinner, lanterns and all! Two highlights from the game drive include an African Wildcat (Left) and an Aardwolf (Right), one of the most elusive nocturnal species in all of Africa!
DumaTau & Vumbura Plains
Alison then boarded a scheduled charter flight up to DumaTau Camp in the Linyanti Reserve, then back down again to Vumbura Plains in the northern Okavango Delta. The video above shows Alison whizzing by DumaTau aboard a motorboat in the Osprey Lagoon. Videos like this showcase that game viewing in this part of Botswana is just as much on boats as it is in vehicles.
Alison believes what makes this area so unique is that it's a freshwater wetland amidst Kalahari Sands. The crystal clear channels, lagoons, islands, grasslands, woodlands and seasonal floodplains showcase some of Africa's best game viewing. Take a look below at what Alison saw with her guide Nas (DumaTau) and Lette (Vumbura Plains).
(L): "The barge at DumaTau provides a lovely lunch spot on the Osprey Lagoon | (R): view from the dining area at Vumbura Plains Camp
(L): "Summer migrant birds include the Woodland Kingfisher, with its lovely song chorus." | (R): "This Giant Kingfisher was perched patiently waiting to catch its next meal."
"Taking game drives along the riverine woodlands was rewarded with a lioness drinking."
(L): "The large bull elephant coming out of the channel approached our vehicle with curiosity." | (R): "This female leopard was lying in the shade of a Kalahari Apple tree."
Above: "We spent four days at Vumbura Plains following four lion brothers. They came across a giraffe carcass and happily fed on it." | Below: One of the brothers roaring.
"We took a scenic helicopter trip over the Vumbura concession. Fabulous to see the Okavango Delta's waterways from the air."
Jao Camp & Mombo Camp
Alison's Botswana safari continued onto two new private concessions in the Okavango Delta, Jao and Mombo. These two concessions are among the most pristine, wild places in all of Africa. Thanks tolocal people and environmental groups, plans for oil exploration have been met with fierce resistance. Game viewing was spectacular, especially the numerous leopard sightings! Alison is particularly thankful to the staff members at these two camps. She was enamored with their spirit and warmth. 
(L): Alison with staff at Jao Camp , including resident guide Paul (right), and Specialist Guide Brooks Kamanakao (center left) | (R): Alison with Mombo Camp's staff, including the head chef
(L): "A coucal greeting us early in the morning, perched on Jao's bridge. | (R): "A rewarding sighting of a Pel's Fishing Owl, one of the most elusive bird species."
"The hippo pool in the Jao concession made for a very entertaining sundowners. This dominant bull in particular provided some fun photos."
(L): "We had a good sighting of Mombo's wild dog pack, numbering 12. | (R): "Impalas are beginning to give birth to calves. Taken in front of Mombo Camp."
Two leopards, named Marolhodi and Mogaka, coming down to drink.
(L): "At Mombo we had four different leopard sightings. This is the male, named Mogaka. | (R): "Tladi was a real poser!"
"These last few days have been all about the 'Soul of the Delta' here at Jao and Mombo."
"The final sunset at Mombo. Awesome, beautiful Botswana!"
Chitabe Camp
It was wonderful to be back at Chitabe as I just love this place for both wildlife and camp friendliness. This was a "Slow Safari" with our fabulous guide Goodman taking us far and wide on the concession. A highlight was the day trip to the Gomoti floodplains that come alive in the hot summer months as water has receded and a flush of green grass appears.
My colleagues Simon and Kim joined from Wilderness and we wrapped out the day with the experience of boma night – the dancing and singing rocked as usual with MamaJo leading the way. Have to mention the new photo artwork by Dave Hamman in the refurbished main areas, are exquisite!
(L): A breeding herd enjoying a much needed dust bath | (R): a magnificent bull elephant enjoying the midday mud bathing.
(L): the number of Wattled Cranes in the Okavango Delta seems to be healthy.  | (R): Pied Kingfisher with a tiddler barble!
Great to find a cheetah on our game drive. Chitabe happens to be one of the best places to find them!
A lovely end to the day during my sundowner. My guide and I were able to watch the resident lion pride take an evening drink.
Another video showcasing deafening roar from one of the two male brothers. He's trying to get attention from the lioness!
(L): great to see kudu out in the open, walking along the floodplains. | (R): variety of game is the spice of the Chitabe experience, like these two Southern Giraffes.
(L): my guide at Chitabe, Mr. "Slow Safari" Goodman | (R): enjoying lunch on the high bank with colleagues. It was a real joy to be able to gather again.
Great Plains camps of Selinda and Duba
The last photo album finishes with visits to the Great Plains camps of Selinda and Duba. Swooping down over the Selinda spillway was quite a thrill as the water levels are the highest they have been in 15 years. Within the concession the choice of properties is the original Selinda Camp, the quaint vintage level Selinda Explorers and the stunning Zarafa. Within an incredible morning game drive, we had ticked off seeing the "Big Four" and over 80 species of birds. Later that day we arrived at Duba Plains and on the afternoon drive we incredibly were lucky to complete the "Big Six" sightings in one day. And our birding count was at 128 (thanks to guides Alex and Motts) after my 3 days and I proudly was inducted as a new member of the 111 Club. The Great Plains fifth property is Duba Explorers which felt like an "old found new friend" camp. There is no doubt that Great Plains provides impeccable hospitality with their lovely accommodations and divine food offerings, however my heart and spirit is at peace knowing they are hard core focused on protecting and nurturing habitats for future generations!
Our AAC team and I are standing by to assist with new travels to Botswana and beyond, and wish you a blessed Thanksgiving holiday weekend with fun and happy discussions about safaris past and future!
Driving on Selinda concession and finding two of the three male brothers in the glorious early morning light
Elephant were abundant in and around the Selinda and Linyanti and Kwando rivers system
Our sighting of buffalo at the waterhole near Selinda Explorations was working towards are big day of "Big Six"
Flying over the Delta waterways on Duba
(L): An exciting tick for the Pels Fishing Owl at Duba Explorations | (R): And finally, the trip bird count was complete with the rosy-throated Longclaw tick
We sat with this handsome male leopard for sometime as he rested up
The Skimmer/Tsaro Lioin prides are healthy and strong
Always on the lookout for another hunt and meal with lechwe plentiful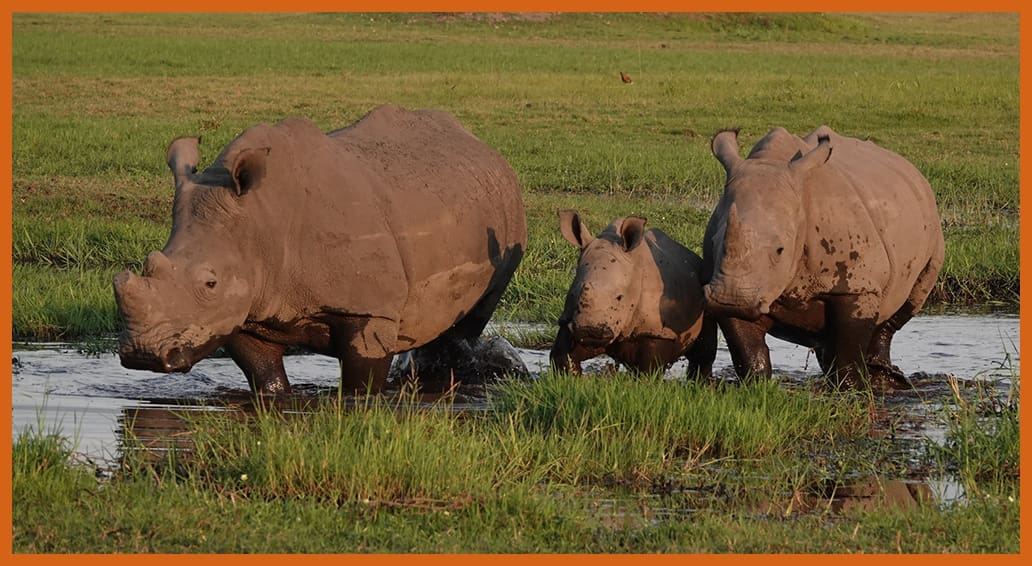 The young rhino calf brings joy to all around
And how lucky to see the wild dog pack ending their day patiently waiting to see if they could hunt
A beautiful ending to my safari trip in Botswana
A Duba rain storm was brewing bringing much relief to a parched landscape thirsty for water
The warm camp dining atmosphere of Duba Plains
And one of the lovely rooms of the Duba Suite
Showing off our caps after the award joining as members of the 111 birding club with the assistance of Lizzie and Motts enthusiasm!