Where should I go on my first safari: Tanzania or Botswana?
Introduction
At the Africa Adventure Company, our first-time clients will most often visit either Tanzania or Botswana. This is a result from several factors, including:
Domestic Transport Infrastructure
Multiple ways to see (walking, boating, game-drive) world-class quality wildlife year-round
Excellent Luxury and Mid-Range Accommodations, including many family-friendly options
Cultural Experiences, especially Tanzania
But of course, this is no way implying that your options are limited to these two countries. AAC prides itself on both the quality and diversity of experiences we offer our clients: take a look at some of our many itineraries here. Or if you're looking for even more customization, give one of our safari consultants a call.
We will discuss the comparable factors between Tanzania and Botswana in three separate blog posts:
To facilitate your navigation, click this drop-down Table of Contents:
[ez-toc]
[ez-toc]
Scenery
The main draw for the camera-wielding tourists visiting these two countries is the wildlife. But a great photo can become a spectacular photo – given the right lighting, composition and background. Both Botswana and Tanzania provide scenic landscapes to capture iconic wildlife photos.
Tanzania in particular has been recognized for its natural beauty. For instance, Travel & Leisure listed Tanzania as one of the Most Naturally Beautiful Countries in the World.
Tanzania
Much of Tanzania is what visitors imagine to be "quintessential Africa," especially the acacia-covered savanna of Serengeti National Park. Only the wide open plains of the Serengeti could play host to the year-round spectacle known as the Great Migration: where thousands upon thousands of wildebeest and zebras gallop across the savanna..
The seemingly endless plains of the Serengeti are not the country's only scenic landmark. To the east lies Ngorongoro Crater, the world's largest intact caldera and a World Heritage Site. To see the crater from atop its rim is worth a trip to Tanzania in and of itself – not to mention that it possesses one of the largest permanent wildlife concentrations in Africa!
And when you arrive in Kilimanjaro International Airport, you can't help but see Mt. Kilimanjaro. Though not nearly as tall as Mt. Everest, Kilimanjaro is no less impressive, for the 19,400 ft peak juts an awesome 16,000 ft above the surrounding plains.
Botswana
As photogenically scenic as Tanzania is, don't discount Botswana. In a country the size of Texas that has merely around 2 million people and nearly 40% of the country's land is dedicated to wildlife conservation, you can be assured of unspoiled views.
Sure, it doesn't have a single landmark comparable to Mount Kilimanjaro. But it does have those "quintessential" open expanses, especially if you venture out to the Central Kalahari, Nxai Pan or Makgadikgadi Pans, and the Okavango Delta.
But what distinguishes Botswana from Tanzania is the abundance of riverine and wetlands landscapes. To have such scenes in the background of your photos truly enhances the wonder!
Vehicles on Safari
Vehicles are divided into two categories: open and roof-hatched.
Tanzania
When driving within and between parks while in Tanzania, you will be in a roof-hatched vehicle. The good thing is that once you are in a wildlife area your guide will open the roof hatch or "pop-top" to allow for viewings – especially for felines in trees!
Furthermore, the windows are very large and open to allow photographers to snap photos lower to the ground. Additionally, many of these vehicles have air-conditioners that help you cool down in the mid-day heat.
Botswana
In Botswana, open vehicles are the norm, as most of the wildlife areas are private concessions or reserves. These vehicles have 2-3 rows of elevated seats without side windows or a permanent roof. Thus, these vehicles typically provide the least obstructed views, and therefore a more immersive experience.
Another added bonus of an open vehicle is that these same areas also permit night drives. You'll find some of the most interesting animal sighting you will be before dawn and after dusk.
Notable Wildlife
Though both countries are superb wildlife destinations, it's important to consider where certain animal species are more likely to be seen. Furthermore, there are also differences between the national parks and game reserves within the countries themselves.
Buffalo
Fortunately, buffalo are widespread throughout both Tanzania's and Botswana wildlife areas. As a member of the Big 5, it's an excellent species to tally on your checklist. Herd size varies from a handful of elderly bulls to well over 100.
A highlight to any safari would be witnessing lions attempt to hunt a buffalo. Though wounded, old or newborn buffaloes are most commonly hunted by lions, it's not uncommon for lions to target a full-grown bull!
Elephant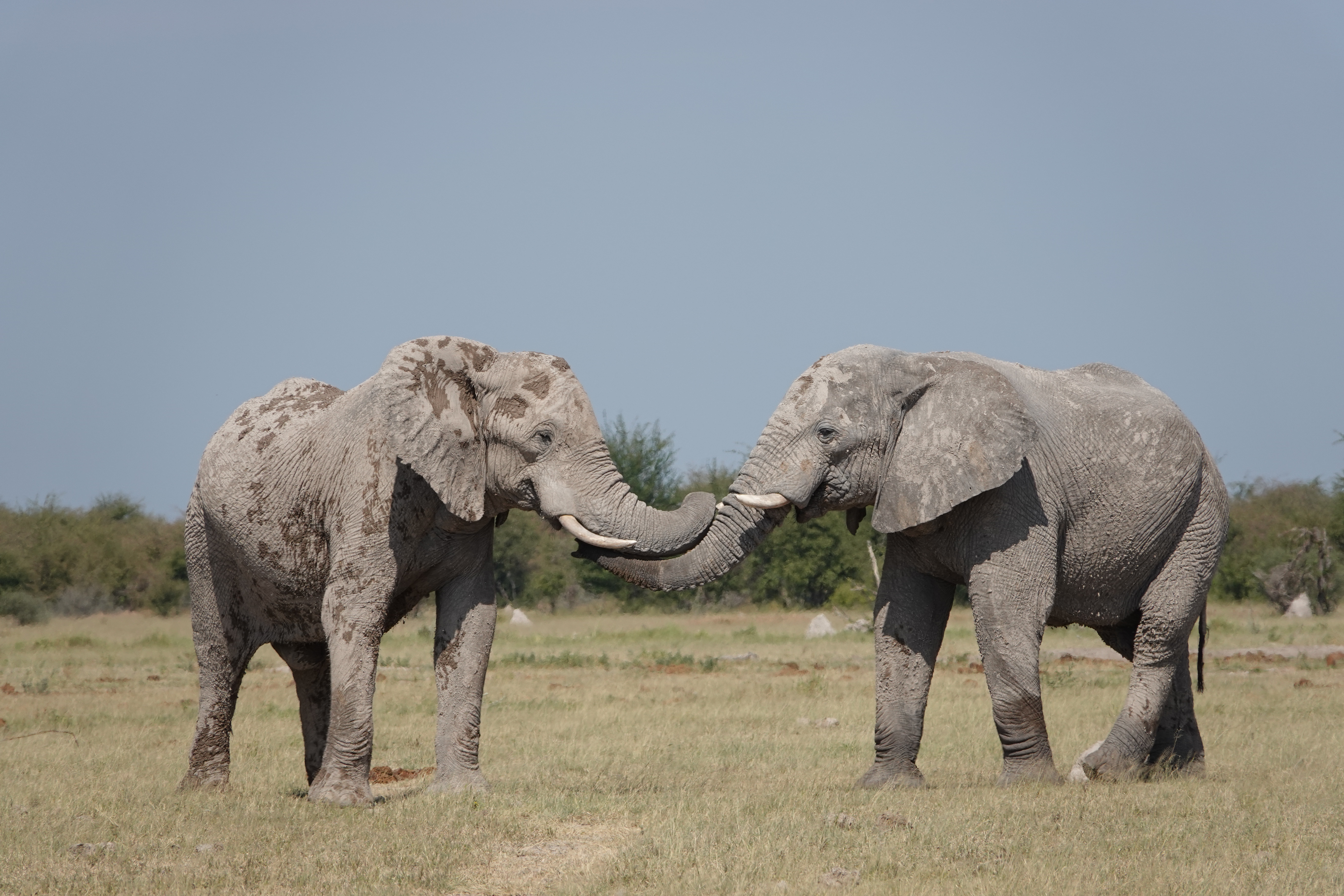 Elephants are nature's largest terrestrial animals. They're also one of its most social and intelligent. some of nature's most intelligent and sociable creatures. It's also arguable that baby elephants are the most adorable juvenile animals in Africa!
Like buffalo, most wildlife areas in both Tanzania & Botswana will feature sizeable elephant populations. But Botswana has the edge, for two reasons:
Botswana reportedly has 40% of all elephants in Africa.
Botswana has the Chobe River and the wetlands of the Linyanti region and Okavango Delta.
Not only can you witness the elephants swim across rivers (see the video in Animal Migrations Section), you are also able to view the elephants from a boat – or even a canoe! Selous Game Reserve is the one place in Tanzania where you can do the same.
Leopard
Leopards are strikingly beautiful felines. But because they prefer forested areas and are solitary, they can be more challenging to spot. Thus, there is no guarantee that you will see a leopard in either Botswana or Tanzania.
The single best area to spot a leopard in either country is the Mashatu Game Reserve, an off-the-beaten-path wildlife area in Botswana. But for first timers, there are better options. The Okavango Delta and Linyanti region in Botswana, the northern and western portions of the Serengeti in Tanzania, and Tarangire National Park in Tanzania are all good leopard areas.
Lion
Arguably Africa's most iconic animal, a safari without a lion seen would truly be a disappointment! Fortunately, both Botswana and Tanzania possess multiple wildlife areas with lion populations.
But Tanzania has the edge, for one specific reason: tree-climbing. Unlike leopards, lions are generally not arboreal. For reasons that are still debated, there are three wildlife areas in Tanzania with such lions: Lake Manyara National Park, Tarangire National Park, and Serengeti National Park
Black & White Rhino
Most large animals in Sub-Saharan Africa are vulnerable to shrinking habitats and human conflict. But few are undergoing as precarious of a population decline as white and black rhinos, fueled by demand for their ivory horns. But not all hope is lost; there are numerous valiant conservation efforts throughout the continent with promising results.
White Rhinos cannot be seen in Tanzania. In Botswana, they can only be seen within the Okavango Delta.
Black Rhinos, however, can be seen in several wildlife areas in Tanzania. The best area is the Ngorongoro Conservation Area, followed by the Serengeti. In Botswana, black rhinos currently can only be seen at the Okavango Delta, especially Chief's Island.
Cheetah
Seeing a cheetah is always an incredible experience; but it's even better to see one in motion! Cheetahs run at sustained speeds of 40 mph, but can reach up to 70 mph in short bursts.
You can't go wrong with visiting either Tanzania or Botswana to see cheetah. In particular, the Okavango Delta, Linyanti region, and the Serengeti all possess optimal, wide-open plains. These plains enable cheetahs to attain their famous, jaw-dropping speeds and are home to large antelope populations for them to hunt.
Wild Dog
Check out this video from BBC's Dynasties series, featuring Sir David Attenborough and our friend Nick Murray, to see footage of the amazing cooperation, endurance and efficiency exhibited by Wild Dogs! Of the two countries, Botswana has more locations with a good chance to see wild dogs, namely Linyanti region & the Okavango Delta. Yet, Tanzania's Selous Game Reserve is also a great choice.
Gorillas & Chimpanzees
See the Primate Trekking Section
Animal Migrations
Tanzania – The Great Migration
Four wildlife areas have the privilege of sharing "the greatest show on earth." The Great Migration's path goes through the Serengeti National Park, Grumeti Reserve, Ngorongoro Conservation Area, and Kenya's Maasai Mara National Reserve.
The migratory impetus for 1.3 million, 200,000 zebra and 250,000 Thomson's gazelle (and, of course, numerous predators) is what's called the "rainfall gradient." Because the Serengeti has limited permanent water sources, animals must go where the vegetation is; more often than not, it's where it's just rained.

What's amazing about this migration is not only the size, but its relative punctuality. Though by no means guaranteed, if you book a camp/lodge in the area and corresponding time, you will most likely witness the Great Migration. Keep in mind, May to October is when the wildebeest intrepidly cross the crocodile-infested Mara and Grumeti Rivers.
Check out our recurring blog post that tracks the progress the Great Migration has made:
Migration Update – East Africa
However, the quality of wildlife sightings remains high even when the migration is elsewhere. In fact, you might prefer it: rates are cheaper and its far less crowded with other vehicles!
Botswana
Animal migrations do occur in Botswana, but not on the same scale as in Tanzania. The Zambezi River and Okavango Delta provides a year-round water that keeps most of the wildlife nearby. But when the rains arrive, some animals do venture southward to Nxai and Makgadikgadi Pans; if you like zebras, here's a good bit of trivia: Makgadikgadi Pans National Park has the continent's 2nd largest zebra migration!
And if you're lucky, you'll be able to witness elephants crossing the Chobe River, as in the video above! They cross to eat the vegetation in Namibia's Caprivi Strip and southeastern Angola. This is less of a migration, however, and more of an irregular to-and-from movement.
5. Gorilla & Chimpanzee Trekking
Note: Gorillas cannot be seen in either Tanzania or Botswana. If your priority is to see gorillas while in Africa, see our trips to Rwanda and Uganda. If they're not your top priority but something you would still really like to do, then AAC can easily arrange a short extension to your traditional safari!
Chimpanzees' DNA is 98% identical to our own. So it should come as no surprise that they should exhibit similar behavior: they're omnivorous, occasionally bipedal, and exhibit both group infighting and cooperation. Though gorillas tend to get more of the spotlight, it is highly recommended that you go on a trek and observe these equally fascinating creatures.
This is a great opportunity to explore wildlife outside of your game drive vehicle. Dont' worry about really long or difficult treks: most treks will last no longer than half a day, while most treks should not be too arduous for anyone with adequate physical conditioning.
Tanzania
The best place to chimpanzee trek in Tanzania is Mahale Mountain National Park. How strenuous a trek is here depends on what time of year you visit. One reason for this is temperature: from December to May, it's very hot. So chimpanzees will avert the seasonal heat by climbing higher up in the hills. As a result, the trek will be tougher.
Another reason is precipitation: rain makes the trails muddier and increase the availability of food at higher altitudes. But perhaps the biggest reason are fig trees. Around September, the fruits will fall to the ground and chimpanzees will scramble to get these tasty treats. The great thing about this trekkers is that fig trees only grow at lower altitudes!
Greystoke Mahale is an excellent, relaxing sanctuary to stay whilst chimpanzee trekking at Mahale Mountains National Park.
Botswana
You cannot gorilla or chimpanzee trek anywhere in Botswana, or Southern Africa for that matter.
Birdwatching
An important note: you don't have to be an avian expert in order to enjoy birding in Africa. It's a daunting task, even for a seasoned birder: about 2100 species have been recorded in sub-Saharan Africa, 1400 of which reside nowhere else in the world! Even more unbelievable: some reserves and parks have recorded more than 500 bird species.
Now if you are an avian expert, there's a good chance you already knew all of this! Rest assured, there are plenty of high-quality, specialist birding guides that we can book a tour with on your behalf.
So though you may not be an expert before or by the end of your safari, you should come away with a deeper appreciation for birdwatching by the end of your trip. Most guides have great knowledge about numerous species' appearances and calls. In fact, a big reason why they know several calls is because they often indicate that a predator is nearby!
A good resource for newbies is our African Safari Field Guide. It provides descriptions and drawings of some of the more common varieties of birds you will see on safari.
Though the best time of year to birdwatch does not generally align with best time of year to see wildlife, most parks in Africa have good birdwatching year-round.
To Learn More, click the link below to see our in-depth blog post about Tanzanian and Botswanan birdwatching: