A battle between Wild Dog & Hyena, on foot!
To come across the rare wild dog on a game drive is always a special experience, but to encounter a large pack on foot while they battle it out with a hyena clan over a kill, is simply unheard-of.
It all began at Tanda Tula Field Camp yesterday morning where Tony Park and his wife Nicola, along with Janine Mare from Africa Geographic, Anna Rich from Fairlady and the prize winners of our recent Africa Geographic competition, were spending some time soaking up the African bush at the new Tanda Tula Field Camp.
We had set off early in the morning in the hopes of successfully tracking rhino and possibly some other large game. After a short drive away from camp we set off on foot and it wasn't long before we came across fresh rhino tracks. With Dale and Ginger at the lead, the tracks showed we were close and so we cautiously followed them.

Just as Dale and Ginger confirmed we were in close proximity to the rhino, we heard a clan of Hyena making a raucous not far away. The call was made to quickly head off in the direction of the hyena to see if we could spend a few moments with them, before returning to continue tracking the rhino.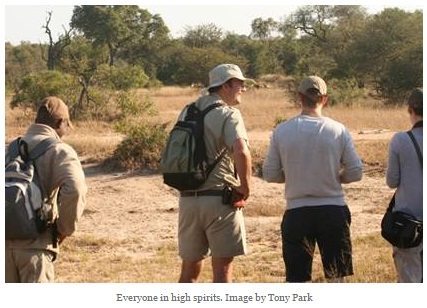 Some calls you make are fruitful, while others can be fairly uneventful. This call was most certainly a good one as shortly after setting off after the hyena Dale went from being very focused on locating them, to very excited! As he explained what was in front of us, so the excitement spread through the group.

As we moved around thick bush and into the open, we encountered a large pack of wild dog moving in from the right while on the left were a few hyena darting in and out of the pack.  The battle between these two strong predators was truly spectacular with the hyena making a great raucous.  From what we could gather, the wild dog had made a kill which had attracted the hyena who came in for a closer look.