Kyle W. – Safari to Okavango Delta & Makgadikgadi
This vacation began with a text message 'all of your flights are cancelled'¦..this is no joke'. The Iceland volcano was set to spoil a vacation that I planned for a year and a half. Thankfully I booked by my flights with AAC and Bill jumped into action and rebooked us on Delta, last minute.
We spent two nights in Johannesburg due to the flight change. The first night at African Rock Hotels, the rooms were clean and fresh, the host was very homey and the food was delicious. It is a great one night stay. The second night we spent at Athol Place – in my opinion the place to stay if you arrive in the morning and leave the next day. The rooms are huge and the food and service are outstanding . They drove us Melrose Arch for lunch and some people watching.
The next morning we flew to Maun, Botswana and a further 1 hour charter flight to Jack's Camp situated in the Makgadikgadi Pans region of Botswana. Upon landing I knew we were not in Kansas anymore. The landscape is VAST and no picture or description can do it justice.
Green season was off and running with the zebra and wildebeest migration – the last in southern Africa. They were everywhere, felt a little like the Serengeti. The late afternoon storms delivered the most amazing sunsets and a thrilling night as the canvas tented breathed with gusting winds and lighting fired up the night sky.

Our guide was Super Sande and was an awesome guide, he could spot a hyena marking on a blade of grass from the safari vehicle, at 25 miles an hour.

One of many highlights at Jack's is the opportunity to visit the habituated family of meerkats. We drove out after an early morning breakfast and sat on the mounds by their wholes and waited for them to wake up. They want to be on the tallest object to look for predators and now you are the tallest thing around. The photos say it all. The camp has a very relaxed attitude, no staff and guide uniforms, everyone is dress ed in whatever is comfortable, it does not feel like a corporation. If felt like a n old world safari camp – including the toilet! My only criticism is that there is no where to kick back an d take that much needed 2:00 pm snooze. Antique furniture is not made for 21st century bodies.

The drive to the Masai Mara was long and extremely exhausting, but thanks to our tra veling companions an Aussie couple and a British Dad and daughter, made the long drive less strenuous. Our guide Stephan was a bit quiet and non talkative at first, but we quickly started joking with him and brought him out of his shell. The first Swahili words he taught me (at my request) were 'pole'¦pole', I found myself saying this on a daily basis. His answer was always 'Akuna Matata'.On our very first afternoon game drive, the first animal we saw was a lioness!! Now I realized why our clients keep coming back over and over, the feeling of respect you get from being so close to such a magnificent creature is second to none.We saw all the animals that were on our list, elephants, wildebeest, giraffes, zebra, lots of baboons, impalas and buffalo. In a way it kind of spoiled it for any future game drives as we found ourselves
The one animal we did not see in the Masai , but were lucky enough to see in Lake Nakuru was the black rhino. Our game drive was cut short due to bad visibility and floods. Fortunately enough, seeing the black rhino made up for the bad weather and other expectations.
The next camp was Vumbura Plains in the Okavango Delta. The food at this camp was amazing. Wayne, the chef was new and dazzling everyone with his creations. Benjamin the assistant manger in training prepared a special private dining experience, lots of candles, lanterns, great food and sounds of Africa just beyond the deck. We did not see any lion or leopard, the grass was too tall, but we did lots o f elephant, hyena, giraffe, plains game, even a ground hornbill flying! Lots of babies and even a charging 3 month elephant – we could not help but laugh at him.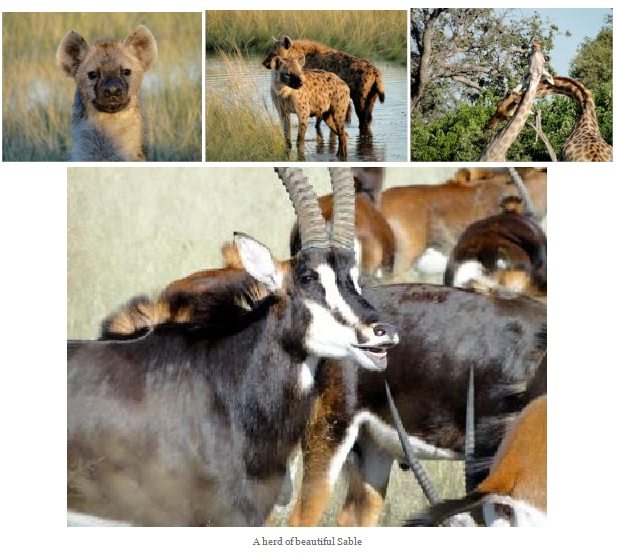 We bid farewell to Botswana an d enjoyed Cape Town for a couple of nights at the One & Only. We stayed in the Island Suites. The rooms were amazing but , no view whatsoever. If you stay book a room in the Marina Rise building, with views to Table Mountain. We had a memorable dinner at Maze and Nobu (don't forget to take the cardboard off the knife) . On our full day we took a cab to Table Mountain, followed by a pool side lunch at the hotel and an afternoon of more relaxing.

The next day we went to Majeka House in Stellenbosch after enjoying the Cheese Festival in Stellenbosch. Not much cheese in Stellenbosch, so hit Le Cottage From age for a healthy dose of fat and cholesterol as only South Africa can deliver!

The room a Majeka was comfortable, nothing over the top, but perfect the one night. The dinner that was cooked just for us was amazing. I was really impressed with the quality and presentation.

The following morning Thomas drove us to Bushmans Kloof – the place to end a long trip. One tip brush up on your Afrikans! The lodge room, food and service are beyond top notch. There is so much do at Bushmans Kloof including mountain biking, hiking, bow and arrow target practice, canoeing – none of which we did. We did move further than the kitchen on an afternoon hike to the rock paintings and never left the room after that – expect to eat. We booked the Riverside Suite which is basically a house, with three verandas and a private infinity pool, living room, bath and bedroom. It was heaven for 3 days!