Safari Collection #5 Namibia Dunes & Desert Safari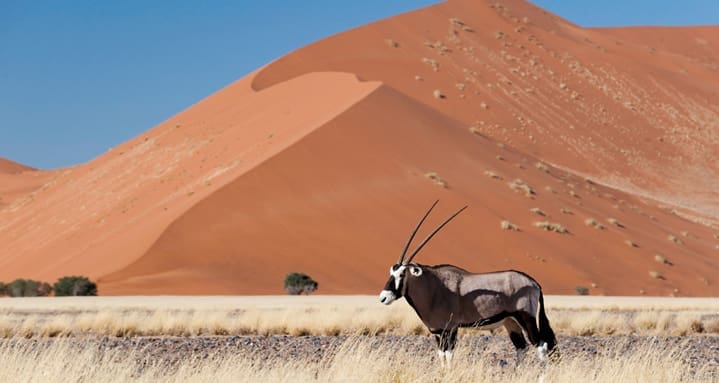 OVERVIEW OF SAFARI
Experience three distinct regions of Namibia. Savor solitude among some of Africa's most remote safari destinations.  Each of these regions possesses stunning, out-of-this-world landscapes that will inspire the soul, including the desolate Namib Desert and Skeleton Coast. See how countless, desert-adapted animals survive in these harsh ecosystems, like elephants and black rhino in Damaraland. Go on game drives in Etosha, whose pans are home to an immense quantity and diversity of wildlife.
Itinerary & 2021 Pricing
COLLAGES OF WILDLIFE, ACTIVITIES & SAFARI CAMPS
Top Left: Damaraland is the best place in Namibia to find desert-adapated rhinos
Top Right: thanks to numerous conservation efforts, the lion population in Skeleton Coast has surged
Middle Right: elephants, and many other animals, concentrate around the vegetated dry riverbeds
Bottom Right: an impressive diversity of wildlife congregates around the waterholes at Etosha and Ongava
Bottom Left: ostriches are a common sighting near Sossusvlei
Middle Left: Deadvlei is one of Namibia's most surreal landscapes
Top Left: finding desert-adapted elephants is best accomplished on a game drive
Top Right: the contrast of the sand dunes and vibrant green and blue of the Skeleton Coast oases is stunning
Middle Right: the word "breathtaking" comes to mind when on a hot air balloon safari in the Namib Desert
Bottom Right: the spectacular views make the strenuous trek up the sand dunes near Sossusvlei worthwhile
Bottom Left: approaching black rhino on foot is an incredible and unique experience offered at Damaraland's Desert Rhino Camp
Middle Left: a fun way to experience Sossusvlei's incredible scenery is to zoom through it in a quad bike!
Top Left: the sleek, luxury tents at Hoanib Skeleton Coast Camp are a sublime base of operations to explore Skeleton Coast
Top Right: view from the inside of one the rustic, Meru-styled tents at Desert Rhino Camp
Middle Right: when the sun sets, you won't help turning your eyes up to the brilliant night sky while at Little Kulala
Bottom Right: Doro Nawas is well-situated to explore the Twyfelfontein rock engravings and Petrified Forest in Damaraland
Bottom Left: the newly renovated Andersson's Camp gives you unique access to researchers and anti-poaching units operating in Ongava Reserve
Middle Left: guests are prone to sitting on their verandahs, enjoying the views of the open plains near Sossusvlei, while staying at Kulala Desert Lodge
AAC CLIENTS ON THEIR NAMIBIA SAFARIS
Hello Alison,
Thank you for arranging a wonderful trip to Namibia!  We enjoyed all aspects of the trip and were pleased at the flawless transfers provided by Wilderness Safaris.
The camps were all very nice in different ways.  Little Kulala stood out for its outstanding food, professional and welcoming staff, and the star beds where we spent both nights.  Desert Rhino Camp, while a bit less polished, was in a beautiful setting and we enjoyed the ability to go on 2 hikes right from camp as well as the Boma dinners, breakfast on the bluff, and the communal dining which makes for a more congenial atmosphere where it is easy to get to know other guests.  Hoanib Skeleton Coast Camp was also excellent with beautiful accommodations, friendly and fun staff, an interesting presentation from the brown hyena researcher on site, and of course the trip to Skeleton Coast.  Andersson's at Ongava had the most beautiful accommodations and common areas of all the camps.  We saw lots of animals though both on Ongava Reserve and Etosha.
Jan Carrington & Gary Michel
▬
Dear Ian,
Thanks for your planning and support. This was a trip my daughter and I will remember for a very long time. Though the whole safari was outstanding, I really wanted to single out Hoanib Skeleton Coast Camp.
We loved this camp!!!!! It was the highlight of trip. I can't say enough about the staff, accommodations, and activities. Clement, the manager, and the rest of the staff were always there and we felt like special friends staying at his home. We were in the farthest tent and the views were amazing – it almost felt like we were on another planet. The setting is so amazing. All the meals were excellent. Our guide Elias was so enjoyable to be with. He was also very knowledgeable, showing us even the smaller animals, but also saw giraffes, elephants, leopard, oryx, seals, springbok, and a brown hyena. We saw a lot more animals than we expected! We were very fortunate to have numerous occasions to spend time with the brown hyena researchers. We also enjoyed the trip to the coastline and were surprised how much we saw on the drive over. They had a wonderful lunch set up on the beach. On our flight back, the pilots spotted an elephant herd below.
In summary, our stay at Hoanib Skeleton Coast was a 5-star experience. Having been elsewhere on safari, this was such a neat change that we felt like we were the only ones in the parks or reserves.
Sydney Bland
Contact an AAC Safari Consultant – Romantic Safari